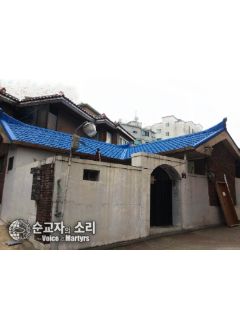 On Thursday April 5 at 10:30AM, Voice of the Martyrs Korea will be celebrating the grand opening of its Kim Gyo Shin Home with a special private event for members of the media and invited guests. The home is located on the property that early Korean Christian leader Kim Gyo Shin once owned in Jeongneung. It has been outfitted with a radio studio for VOMK's AM, Shortwave, and Satellite broadcasts, as well as a printing press for VOMK's publishing company, which publishing the writings by and about Christian martyrs and early Korean Christians.
"The home is not a museum or a memorial to Kim Gyo Shin or early Korean Christians," VOMK board chair Hyun Sook Foley explains. "It is a working, functioning ministry site dedicated to making sure that the voice of the martyrs never falls silent but instead can be heard as a living word by a new generation."
The grand opening event is expected to be attended by descendants of early Korean Christians, as well as newly retired Voice of the Martyrs US president, Jim Dau, a longtime supporter of VOM Korea's efforts.
Foley Depyonim and Foley Moksanim take a picture with Kim Gyo Shin's daughters in front of the picture of their father.
Members of the media will receive a tour of the facilities. They will be able to attend a recording for Voice of the Martyr's Korea's satellite, AM, and shortwave radio, as well as a demonstration of VOMK's print-on demand printing press.
"People are often surprised by the Kim Gyo Shin Home because it is so small; it doesn't look like a ministry office at all," Board chair Foley says. "But that is part of what Voice of the Martyrs is all about: Helping the Korean church understand how to use everyday locations for vital ministry, the way the underground church does today around the world and the way the Korean church originally had to. The Kim Gyo Shin Home, with its radio studio and printing press, is a perfect example of the home-based ministry that the underground church practices."
To celebrate the grand opening of the Kim Gyo Shin Home, this month Voice of the Martyrs Korea is giving away free copies of Preparing for the Underground Church, the new book by VOM Korea CEO Pastor Eric Foley. One free book is available per family by contacting VOM Korea at 02-2065-0703 while supplies last.
"Preparing for the Underground Church is the perfect book to describe the operation of our Kim Gyo Shin home," Board chair Foley explains. "The book is about how churches must learn to operate in private spaces, without the benefit of official status and sometimes in the face of public hostility."