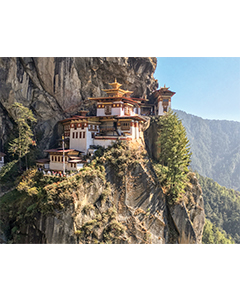 The Buddhist kingdom of Bhutan remained isolated from the rest of the world for centuries. Located high in the Himalayas between China and India, it was geographically protected from potential invaders as well as outside cultural influences. But since the 1970s, Bhutan has begun to engage the outside world. In 2005, the king introduced a new constitution that included democratic reforms. Since 2008, the country of 750,000 has been ruled by both the king and an elected parliament.
As Bhutan pursued modernization, its leaders stressed the need to preserve Bhutanese culture, including language, dress and even its commitment to Buddhism. The government has promoted a philosophy of "Gross National Happiness," which balances economic development and culture.
FROM OUTSIDE TO IN
While many Christians have tried to bring salt and light into Bhutan, the isolationist country has largely prevented evangelism, with Christian workers restricted to working along Bhutan's border with India. For years, VOM has supported Bible distributions in Bhutan through Indian believers who longed to share the gospel with their neighbors, and we have also supported pastoral training for those working in Bhutan.
As Bhutan has opened to tourism, VOM workers have been able to enter the country and make contact with some of the very few (less than 1 percent) Bhutanese who follow Jesus. Though the constitution guarantees religious freedom, in practice society does not accept people who leave Buddhism. Most Bhutanese believe that to be Bhutanese is to be Buddhist.
A team of VOM workers recently met a believer and former member of Bhutan's military who lost his job after missing work to attend a Christian training seminar. While Buddhist military members frequently miss work for religious ceremonies, "Pema" was fired when his superiors learned that he was a Christian. Pema now has difficulty providing for his family, but they are committed to their faith.
ON THE FRONT LINES
The VOM team also met a believer who spent 49 days in jail because of his Christian work. Pastor "Tashi Wangchuck" was accused of being paid to spread Christianity in Bhutan. Tashi initially was sentenced to three years and 11 months in prison, but he was released after serving less than two months. He drew from the Book of Acts as well as the religious freedom provisions of the Bhutanese constitution when defending himself in court.
Believers throughout the world prayed for the pastor while he was in prison, and VOM offered additional support. Many of the prayers were shared on VOM's website.
"There was one thing that was so encouraging," Tashi recalled. "As I was looking at the VOM website, I found there was a prayer request for me [with] my picture. I was so shocked."
Tashi saw that more than 400 people had posted prayers for him in a single week. "All of this was very encouraging for my wife, encouraging for my family," he said. "We felt somebody was there caring for us and standing behind us. So now as I'm already out of my imprisonment, it is a privilege for me to thank the family of VOM."
Tashi and his wife remain eager to share the gospel with their fellow Bhutanese and to help Buddhists come to know Christ. They also feel called to plant churches. While Christian churches exist in Bhutan, most are pastored and attended by ethnic Nepali people. Other people groups in Bhutan, such as the Drukpa, Monpa and Ngalop, are Buddhist, and no Christians are known to be working among them.
Tashi and his family hope to change that. He has a passion to share the gospel and already understands the risks. "I and my family, we have committed our entire lives for His love, for His kingdom, for His ministry," he said. "We want to give our lives for God and for His mission and for His ministry."
Tashi is eager to help grow God's kingdom in Bhutan, and he knows that what he has to share is better than any measure of happiness.